Climbing in the Ishizuchi Mountain Range
Home to western Japan's highest peak, Mount Ishizuchi, the range includes mountains covered with expanses of sasa, or broad-leaf bamboo, as well as peaks with ridgetop trails that offer views stretching as far as Shikoku's cities, the Pacific Ocean and the Chūgoku Region of the Seto Inland Sea.
While 2,000m class in elevation, the string of peaks that make up the Ishizuchi Mountain Range each exhibit distinct characteristics.
Visitors venturing into these mountains will find charming and enjoyable attractions suiting their own tastes along with many features sure to inspire and surprise.
The Ishizuchi Mountain Range brims
with the gratifying thrill of climbing
The beauty of nature's ever-changing face
Inspiring feelings exclusive to the mountains

Mountain climbing doesn't necessarily mean having to climb clear to the mountaintop. Midway along the trails, you can encounter plenty of features "found nowhere but here" as they would never be seen in the flatlands below. When a trail surrounded by huge trees and greenery opens up to never-before-seen vistas as far as the eye can see, who wouldn't be moved?
The nature-borne vistas are unique beyond compare and inspire visitors in new and diverse ways depending on the mountain climbed, the angle of observation and the season. That those who have experienced the enchantment of the mountains tend to venture back time and again may be rooted in a desire to "see mountains yet unseen."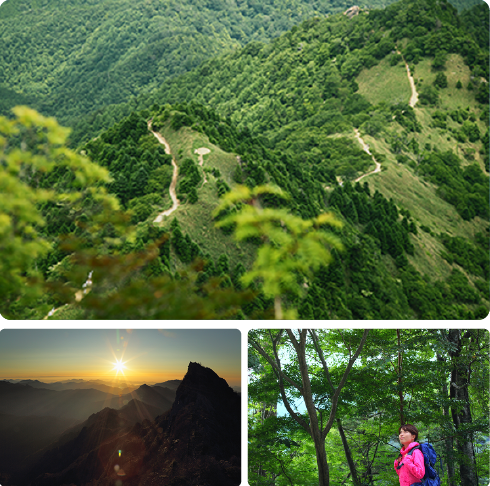 A rich variety of enjoyable trails
Mountain-climbing for health of mind & body
The Ishizuchi Mountain Range contains many well-maintained trails, so even beginners can safely enjoy mountain climbing here with careful consideration of routes and pacing. And for advanced climbers, there are mountains and routes offering greater levels of challenge as well.
From virgin forests to expanses of sasa meadows, from talus slopes to chain-assisted ascents, trails in the Ishizuchi Mountain Range are richly varied in their vegetation, vistas and pitch of slope. By all means, come and find your favorite mountain here.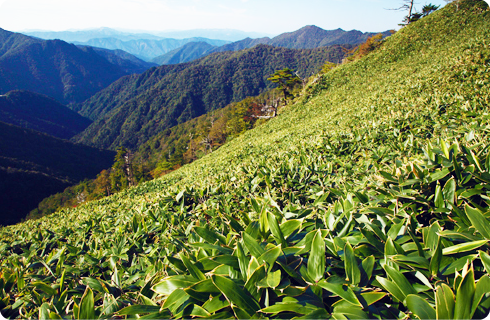 Mountains of the Ishizuchi Mountain Range
A succession of beautifully shaped peaks are found around Mount Ishizuchi:
Mount Ishizuchi (Ishizuchi-san), one of the 100 Famous Japanese Mountains;
Mount Sasaga-mine, offering the enjoyment of traverse from multiple routes;
Mount Kamegamori with its inspiring views of Mount Ishizuchi beyond sasa meadows and snag forests with bleached white trunks;
Mount Iyo-Fuji, which presents panoramic views of the mountains of Shikoku along its ascent;
Mount Heikedaira with its terrific wide-open vistas;
Mount Ōzare-yama with its impressive stands of huge Japanese beeches (Fagus crenata);
Mount Dōgamori with its expansive slopes of sasa meadows;
Mount Kanpū–zan with its beautiful ridgeline that leads to Mount Sasaga-mine where the beautiful forms of the Ishizuchi Mountain Range's string of peaks can be fully absorbed.
The particular charms vary from season to season and mountain to mountain.
Yet another appeal of the peaks in the Ishizuchi Mountain Range is their ease of access from nearby cities.
Notable peaks counted among lists such as the 100 Famous Japanese Mountains:
100 Famous Japanese Mountains…Mount Ishizuchi
200 Famous Japanese Mountains…Mount Sasaga-mine
300 Famous Japanese Mountains…Mount Kamegamori, Mount Iyo-Fuji
Mount Ishizuchi (Ishizuchi-san)
Mount Sasaga-mine
Mount Kamegamori
Mount Iyo-Fuji
Mount Heikedaira
Mount Ōzare-yama
Mount Dōgamori
Mount Kanpū–zan
To climbers in the Ishizuchi Mountain Range:
In mountain climbing, accurate knowledge enables safe, pleasurable climbing as well as many chances for inspiration and new experiences.
From proper equipment and preparation to the particular mountain regulations and protocol, make sure to check off all the important steps to a pleasant climb one by one.